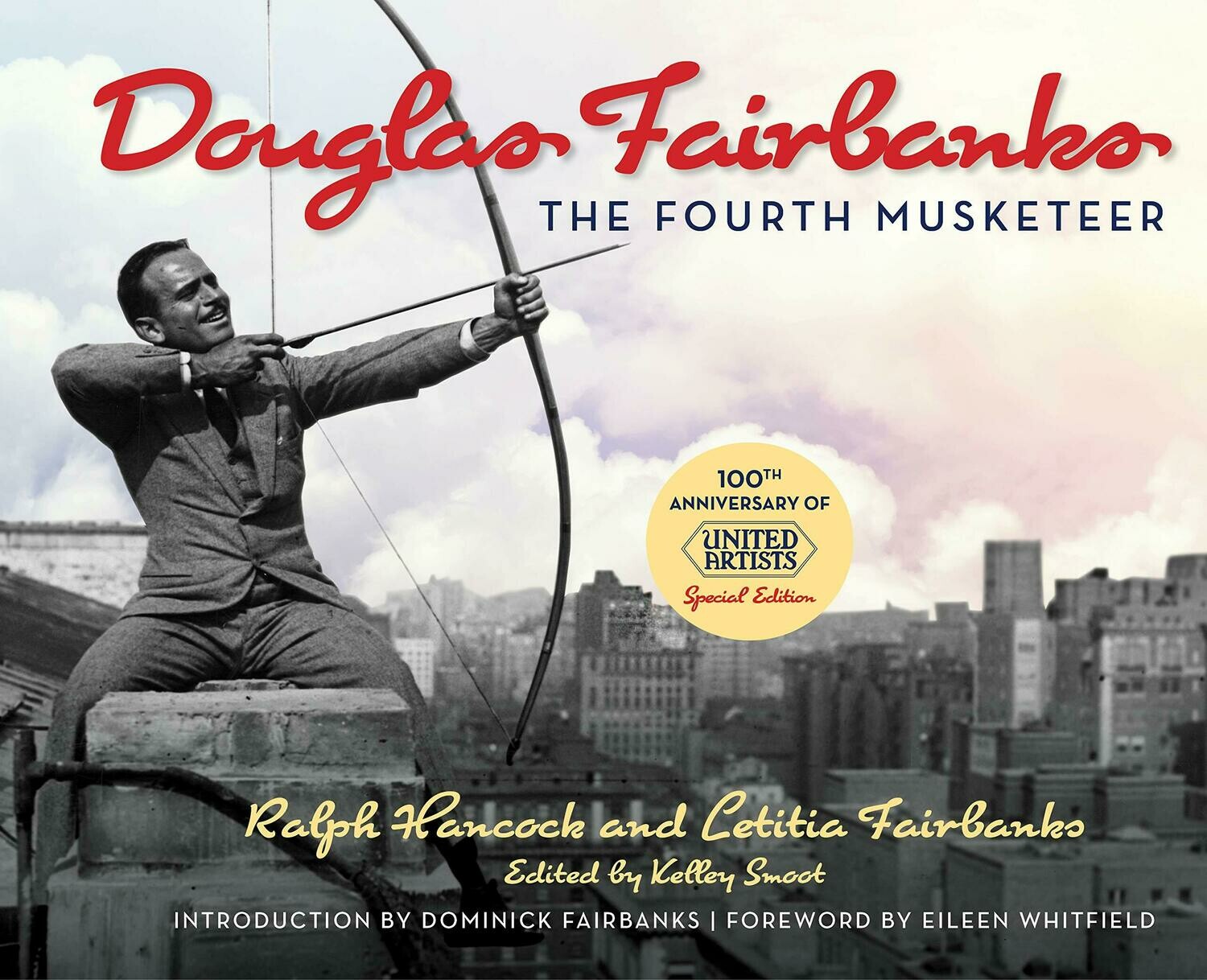 Douglas Fairbanks: The Fourth Musketeer
SKU 00005
Product Details
Few people have influenced Hollywood history than Douglas Fairbanks. And who better than his niece and Fairbanks family historian, Letitia, to relate that story?
This updated version of the original 1953 biography has been expanded by the Fairbanks family with archival materials as well as never-before-seen photographs from the Academy of Motion Picture Arts and Sciences, Margaret Herrick Library.
On-screen and offscreen, Douglas Fairbanks was a force of nature, progressing in easy leaps and bounds from the Broadway stage to silent movies when feature-length film was just a few years old. His happy, healthy characters and acrobatic acting style brought a new energy to the medium.
But, it was through his extraordinary success as a producer that Fairbanks achieved the goal of all creative people: to run his own show. This he did by co-founding United Artists in 1919 with his soon-to-be wife Mary Pickford, Charles Chaplin, and D. W. Griffith.
As a producer, he showed visionary taste, collaborating with his directors and designers to enact gallant tales in spectacular settings. Whether he played a young man on the go or a swashbuckling hero in a fairy-tale land, Fairbanks--one of the thirty-six founders of the Academy of Motion Picture Arts and Sciences--put America's hopes and dreams on film.
From the Editor Kelley Smoot:
Ralph Hancock and Letitia Fairbanks Smoot were of the same mind when they began this biography in 1951. They believed that Doug's story could best be conveyed as he told it in his life, augmented by Letitia's own memories of her uncle and with explanations and details that were absent from the glossy PR pieces of the day.As a framework, they drew upon the wealth of publicity generated by the Douglas Fairbanks Pictures Corporation and United Artists. I know this because I found many of these articles when I researched Ralph's collection at his alma mater, the University of Oregon in Eugene.
Included in his literary file was an account of every researcher's nightmare. At first, Ralph had set out to write a biography of Fairbanks alone. Then, in 1950, after two years of work, his car was stolen. Ralph's entire set of notes and research were stowed in the trunk, so his work was forever lost. After this devastating blow, he was introduced to Letitia through friends who thought they might tackle the book together. The result was the first full-length biography to be written about Fairbanks after his death in 1939.
The theft of research materials helps explain why, when Fairbanks and Pickford chronicler Booten Herndon asked Ralph about a discrepancy in the 1970s, Ralph told him, "If you have a different version, I'd advise you to go with it." In the "Commentary on Sources" at the end of Herndon's Mary Pickford and Douglas Fairbanks: The Most Popular Couple the World Has Known(1977), Herndon describes how Letitia responded to his queries. "Letitia Fairbanks Smoot, daughter of Robert and the family historian, repeated or corrected and augmented much of The Fourth Musketeer." I suspect that this process was much the same during the 1950s when Letitia worked with Ralph to create this book. Ralph did the writing, and Letitia went over it, correcting and adding pertinent details.
Without Eileen Whitfield's early commitment to this project, it is doubtful others would have signed on. I am also deeply indebted to the dedicated staff at the Margaret Herrick Library at the Academy of Motion Picture Arts and Sciences. They are consummate archivists and researchers, dedicated to ensuring that everyone who helped make the movies has a chance to be studied through their inventory.Additionally, Fairbanks researcher extraordinaire Tracey Goessel and Fritzi Kramer of Movies, Silently provided critical details and helped decipher photos and handwritten notes. Finally, noted film author and historian, agent, and all-around great guy Michael Troyan - born, like Doug, on May 23rd! - helped make my dream of re-publication a reality.
But as always, the story of The Fourth Musketeer begins and ends with the Fairbanks family members who have so generously shared their memories and collectibles, especially Dominick, grandson to Douglas Fairbanks, Jr., and Fairbanks Jr.'s widow Vera. This re-publication simply would not have happened without their steadfast commitment and help.
Save this product for later